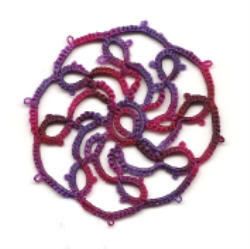 Here is Gina's June mystery motif once again. Again it is not perfect because I was still experimenting with stitches here and there. This one has a much more pronounced "swirly" effect. I think tatting this motif once more I could get it "bang on" with only a few minor changes to the original pattern.
Oh..in case you are wondering why I did this, there was some discussion how the mystery motifs that came back didn't quite have that "swirlyness" as the original. Of course I have the benefit of seeing what I am tatting and others did not, but for some reason I was really interested in this motif.
Everyone who participated in the "Mystery Motif", my hat's off to you! I cannot seem to tat without the visual.
This is tatted in size 20 "Hydrangea" silk tatting thread